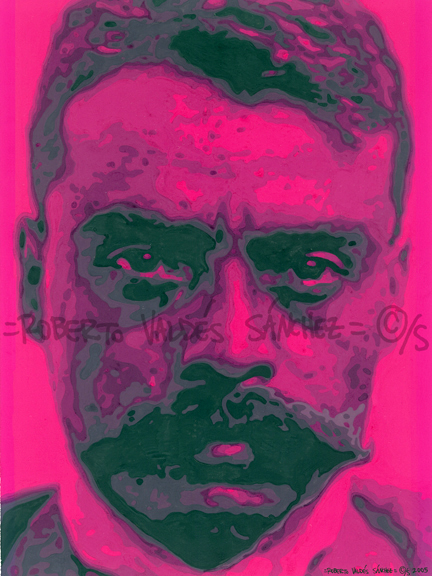 ZAPATA INTENSO (The Intense Zapata) (2005) - gouache paint

Emiliano Zapata (August 8, 1879 - April 10, 1919) was a leading figure in the Mexican Revolution who formed and commanded an important revolutionary force called the "Liberation Army of the South". He is considered to be one of the most outstanding and most revered national heroes of México. To many Mexicans, specifically the peasant and indigenous citizens, Zapata was a practical revolutionary who sought the implementation of liberties and agrarian rights outlined in the Plan de Ayala. He was a realist with the goal of achieving political and economic emancipation of the peasants in Southern México and leading them out of severe poverty.
Zapata Intenso is an intimate portrait of the famous revolutionary leader that emphasizes his expressive face and intense stare. It shows a poor indigenous man, hardened by years of abuse and frustration. His eyes are the most revealing, as they show a sad but determined gaze of a man who is fed up and has nothing to lose. It is the look of a man you don't want to mess with! Zapata Intenso is painted in the complimentary color scheme of the Mexican flag - green and red. In this case, I used an intensely vibrant red for the highlights on Zapata's face and gradually transitioned it into a deep green for the shadows.
---