-BIOGRAPHY-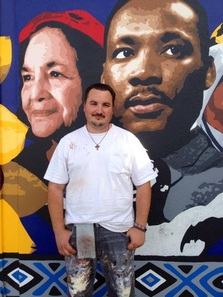 I was born in the small agricultural community of Yuba City, California on November 20, 1979. Since childhood, and as long as I can remember, art has always been an important part of my life. In high school, I participated in creating several murals as part of a beautification project for downtown Yuba City. This experience led me to understand the importance of utilizing art as a means of expression.

In 2002, I graduated with two bachelor's degrees at California State University, Sacramento – one in Art Studio and the other in Ethnic Studies (with an emphasis on Chicano Studies). After graduation, I had the opportunity to attend the Academy of Art University in San Francisco, California. At the Academy, I furthered my artistic studies in painting, figure drawing, color & design, computer animation, 3D modeling, and sculpture.

As a Chicano artist, I am interested in creating cultural, historical, and political images that enable people to reflect on their own thoughts about the world and about themselves. My intent is to inspire people to learn more about the ideas that are expressed in my artwork. Anything else would be un-Chicano!

---
---
-NEWS & MEDIA-

*You can also find me online at:
---
-EXHIBITIONS & EVENTS-

*Current & Upcoming

Present (*Since December 21, 2015): 'Antonio's Quick Lunch' Mexican Restaurant (Yuba City, CA)
Present (*Since May 4, 2011): 'Taquería El Taco Naco' Mexican Restaurant (Olivehurst, CA)
*Past
May 6-7, 2017: 'First Fest Music Festival 2017' - Pop Up Art Gallery (River Walk Park - Sacramento, CA)

March 26, 2016: Guest Speaker at the 6th Annual "Remembering César Chávez" Breakfast (Mexican Heritage Center & Gallery - Stockton, CA)
March 8-31, 2016: "El Hombre de Oro" Solo Art Exhibition (Mexican Heritage Center & Gallery - Stockton, CA)
August 28, 2014: "Change The World" - Mural Unveiling Ceremony (Gray Avenue Middle School - Yuba City, CA)
November 1, 2013: The Big Read Preview Event celebrating "Día de los Muertos" (Sutter County Library - Yuba City, CA)
September 2013: The Theater Gallery (Yuba City, CA)
July 19, 2013: Friday Night Art Exhibit at the Marysville Gold Sox Baseball Game (Appeal-Democrat Ballpark - Marysville, CA)
May 5, 2013: "7th Annual Cinco de Mayo Festival & Parade" (Yuba-Sutter Fairgrounds - Yuba City, CA)
May 3, 2013: Recipient of the "2013 Diego Rivera Award" (*Recognized by the Sutter County Democrat Party)
March 24, 2013: "César Chávez Day Celebration" (Olivehurst, CA)
December 1, 2012 - December 10, 2014: 'Art-O-Culture' Gallery Venue Studios (Marysville, CA)
August 1-5, 2012: 2012 Yuba-Sutter Fair (Yuba City, CA) - "Zapata Intenso" (1st Place)
April 10 - June 4, 2012: "4th Annual Vida de Oro Folk Art Festival" (The Artisan Gallery - Sacramento, CA)
May 2012: "2012 Campaign Design Contest" for the 'Friends of the National Museum of the American Latino' (*National Finalist)
August 3-7, 2011: 2011 Yuba-Sutter Fair (Yuba City, CA) - "Los Guerreros" (1st Place) & "La Unión Hace La Fuerza" (1st Place)
July 14-31, 2011: 2011 California State Fair (Cal Expo - Sacramento, CA) - Fine Art Exhibit - "El Hombre de Oro" (*Award of Merit)
May 1-8, 2009: "FREED May Day Art Festival" (Marysville, CA)
April 7-30, 2008: "Latino Alma and Arte: Honoring History, Culture and Vision" - 'Yuba Community College' Art Exhibit (Linda, CA)
March 25, 2008: "The 10th Annual Latino Leaders' Reception" (Masonic Temple - Sacramento, CA)
August 17 - September 3, 2007: 2007 California State Fair (Cal Expo - Sacramento, CA) - "El Che" (*Award of Merit)
June 21, 2007: "Reading Is Knowledge" - Mural Unveiling Ceremony (Ella Elementary School - Olivehurst, CA)
April 29, 2007: "Festival de la Familia" (Cal Expo - Sacramento, CA)
August 2-6, 2006: 2006 Yuba-Sutter Fair (Yuba City, CA) - "El Hombre de Oro" (1st Place) & "Mandala Azteca" (2nd Place)
May 5-30, 2006: "Celebrating Latino Culture: Experiences and Struggles" Latino Art Show (Marysville, CA)
November 2005: "Chicano Art Exhibit" (The Brick Coffee House Café - Marysville, CA)
February 11-25, 2005: "Life Through Latino Eyes: A Celebration of Culture, Struggles and Visions" Latino Art Show (Marysville, CA)
May 1-4, 1997: 1997 California State PTA Convention (San José, CA) - "Paz" (*State Finalist)
January 1996: 1996 Yuba-Sutter Clean Air Art Calendar - "The Future Generation" (*Selected)
December 1995: "Yuba-Sutter Clean Air" Art Exhibit (Yuba-Sutter Regional Arts Council - Marysville, CA)