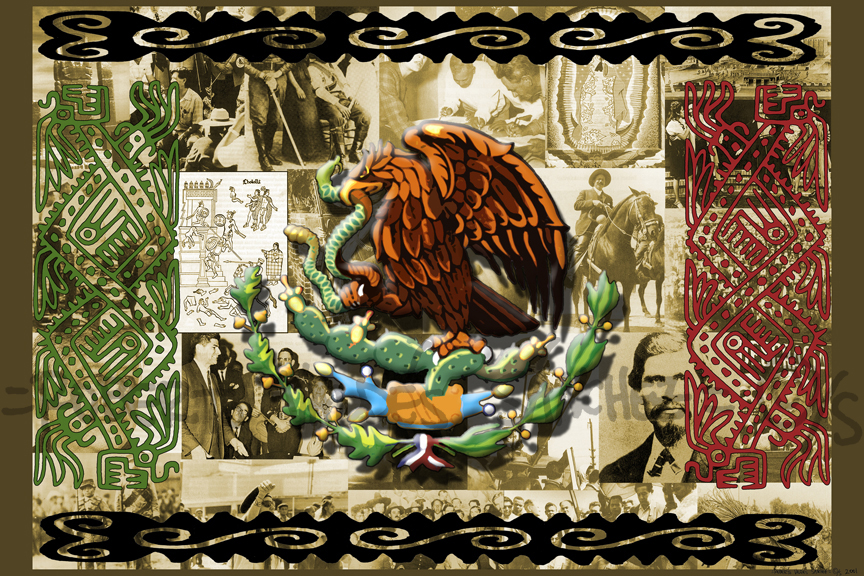 RAZA (2001) - computer art
The serpent and eagle emblem, found in México's National Coat of Arms, was inspired by an Aztec legend regarding the founding of Tenochtitlán. According to popular legend, the Mexica (pronounced "me-shee-ka"), then a nomadic tribe, were wandering throughout México in search of a sign that would indicate the precise spot upon which they were to build their capital. The god Huitzilopochtli had commanded them to find an eagle on top of a nopal cactus devouring a snake. After wandering for hundreds of years, they found the promised sign on a small island in the swampy Lake Texcoco. Here, they founded their new capital in 1325, named Tenochtitlán (meaning "Place of the Nopal Cactus"), which later became known as México City, the current capital of México.
With Raza, I wanted to pay tribute to my rich Mexican history by creating an elaborate collage utilizing a collection of cultural, historical, and political images. Floating above the detailed background, and flanked by green and red serpent motifs, is México's serpent and eagle emblem. The end result is my own adaptation of the Mexican flag, supported by a pictographic history of a proud and resilient people.
---