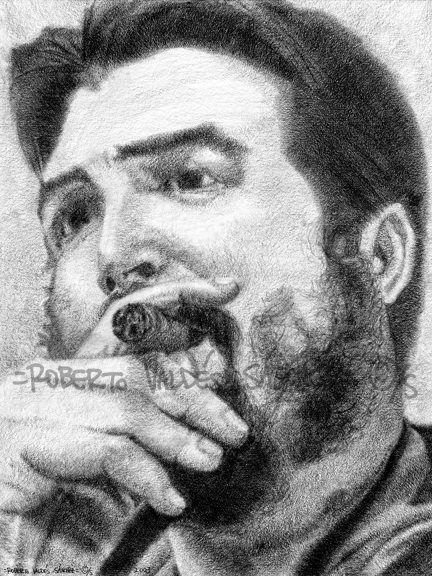 EL CHE (2003) - conté crayon
Revolutionary leader Ernesto "Che" Guevara, who philosopher Jean-Paul Sartre once referred to as "the most complete human-being of our time", was a dashing rebel whose epic dream was to end poverty and injustice in Latin America and the developing world through armed revolution. Born on June 14, 1928, he left his comfortable Argentine existence at a young age to dedicate his life to revolutionary causes around the world - from the battlefields of the Cuban revolution to his assassination in the Bolivian jungle on October 9, 1967.
I have deep respect for Che Guevara because, unlike many political theorists, not only did he develop and preach his ideologies, but he was fully prepared to put his life up and fight for them. He had an intense resolution to pursue an ideal that he felt so absolutely and unwavering for. Che was willing to sacrifice his incredible political value, intelligence, and physical body for the oppressed masses of Guatemala, Cuba, the Congo, and finally, Bolivia. To many people around the world, Ernesto "Che" Guevara is, and forever will be, the ideal revolutionary.
In El Che, I wanted to reveal a personal side to the famed revolutionary icon that most people are not familiar with. We are all used to seeing pictures of a fearless Che wearing his famous black beret with a little star. In my portrayal of him, I wanted to capture an intimate portrait of the man behind the black beret. To me, Che Guevara was an intellectual and I wanted to illustrate this by showing him deep in thought.
---